Here's a new self-help remedy for everyone!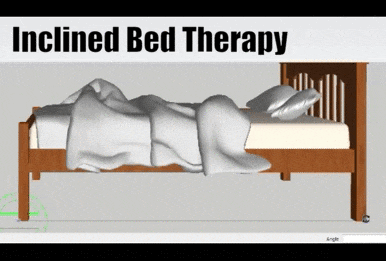 The foundation of my practice is to educate clients how to care for their health both at home and while using my services as needed. I recently discovered 'Inclined Bed Therapy' and have been trying it for 1 week as of this writing. I'm feeling better overall and recommend it for anyone who has health issues or wants to prevent them. It's accomplished by putting blocks under your bed posts at the head of your bed to raise it 6"-7". That's it!
The beds that can adjust individually, even incline at the top are not effective at all because it cuts off the circulation at the pelvis. Since birthing my three babies in three years (19 years ago), my body did not recover 100%. As I continue to learn different modalities in attempt to get help for my body as well as my clients, my legs were still achy on a regular basis and needed ongoing maintenance to keep the circulation going. My liver and kidneys have had trouble for years requiring maintenance and special care even though I received bodywork weekly. I have played extensively with my diet, supplements, herbs, detox, etc. but haven't found a resolution for these things until now.
The first night sleeping at an incline, I noticed it was slightly different being on a slope but felt good. There was an amazingly, gentle stretch to my spine while I slept. In the past, I have woken myself up realizing I am working on my own body. This was happening often that first night when I was inclined. The next several nights were the best night's sleep I've had in a long while. The first week, my legs weren't achy by the end of the day and my leg muscles were actually building without having an exercise routine. I also noticed that my mood was happier overall (even though I'm already a very happy personJ). After the 7th night of sleeping at this 6" incline, my kidneys didn't hurt like they typically did in the morning.
What relief! I am so excited to share this information with anyone having health issues, so please pass this newsletter along to your friends and family who may be having issues. Here is the website to get more information about inclined bed therapy.   www.inclinedbedtherapy.com